(as reported by Channel 7 News in Belize)


He was the most interviewed Belizean, the most photographed, the most internationally recognized, the most locally loved, and now the most grieved for. More or less one week of national mourning for Andy Palacio culminated on Saturday in his home village of Barranco with a massive funeral. But as we found out on Friday night, there was some sweet to even out the grief of goodbye.
Indira Craig Reporting,
A large crowd in the thousands sang along as artists like Adrian 'The Doc' Martinez and Aurelio Martinez, Lloyd and Reckless, and other artists performed. The concert lasted just under an hour and the Belize City audience remained energetic.
[Video Footage of Performance]
The next day thousands more thronged to Barranco Village where the flag flew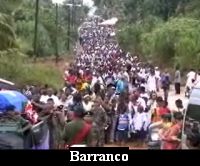 at half-mast. In the tent outside it was like a party as the Garifuna Collective entertained. But it was a funeral – and inside the church where traditional elements were mixed with a catholic funeral.
Rafael Martinez, Andy's Best Honored
"I am honored to pay tribute to a man, a simple yet sophisticated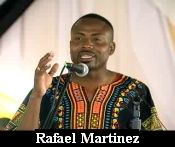 man. I can still hear his laugh, full of vigor, full of life and I think that is the way he would want us to remember him. He lives in all of us so share the Andy Palacio experience. His favorite song was Amyegu, and Amyegu, for those of us who have read the English version of it, it tells and advocates for the Garifuna young men, women, children to nurture and cherish the language, to be very much aware of the Garifuna culture."
And his son sang that same song.
[Kamoa Palacio Performing]
His cousin E. Roy Cayetano spoke about honoring his memory.
E. Roy Cayetano,
"What I will remind you and promise to keep reminding you of, is that it is now up to us to preserve and build on that legacy. I appeal to you not to tarnish it with vicious gossip and unfounded rumors."
Yasser Musa, NICH President
"In Belize City you stretched back with your guitar and told the people,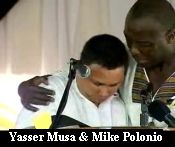 'I am going home to Barranco.' You are home my friend. We didn't want you to come home this way. I am sorry Cleopha but this is how it is. I did all I could. Ask Mike, I did…no fancy machine, no modern medicines, no fast jet planes, could stop the wishes of your ancestors music man."
Michael Polonio, President - National Garifuna Council
"And least but not last we would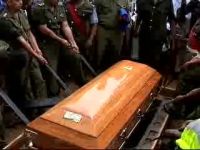 like to thank Andy Palacio for everything that he has given to us."
And that's the spirit that the crowd took into the procession. And amidst those drums his body was lowered into the vault.
NICH has established special account that will be used for the Andy Palacio Education Trust in support of his children. All those interested in contributing to the trust fund can contact NICH. NICH is pledging $10,000 to the trust fund and asks all friends and supporters of Andy Palacio to make a contribution no matter the amount. The account is Andy Palacio Trust Fund - Belize Bank – 226236.